ECONEX Co., Ltd. manufactures products in the Pyeongtaek plant primarily, as well as in plants in Jincheon and Seokwipo. The Pyeongtaek plant has received ISO 9001 accreditation to the manufacture of concrete admixtures since 1995 for the first time in Korea. The Pyeongtaek plant and the newly established Jincheon plant both manufacture superplasticizers for domestic and overseas markets. In addition, the Pyeongtaek plant and Seokwipo plant manufacture concrete admixtures for domestic customers. We are fully prepared to supply high quality products, manufactured under strict quality control system, to our customers for their full satisfaction.
Along with concrete admixtures, ECONEX Co., Ltd. offers a wide range of dispersant suitable for the production of gypsum based products. Characterized by constant and high quality, and high reliability, the syntheses carried out on our modernized Pyeongtaek plant and Jincheon plant are controlled using computers and utilize our own environmentally friendly technologies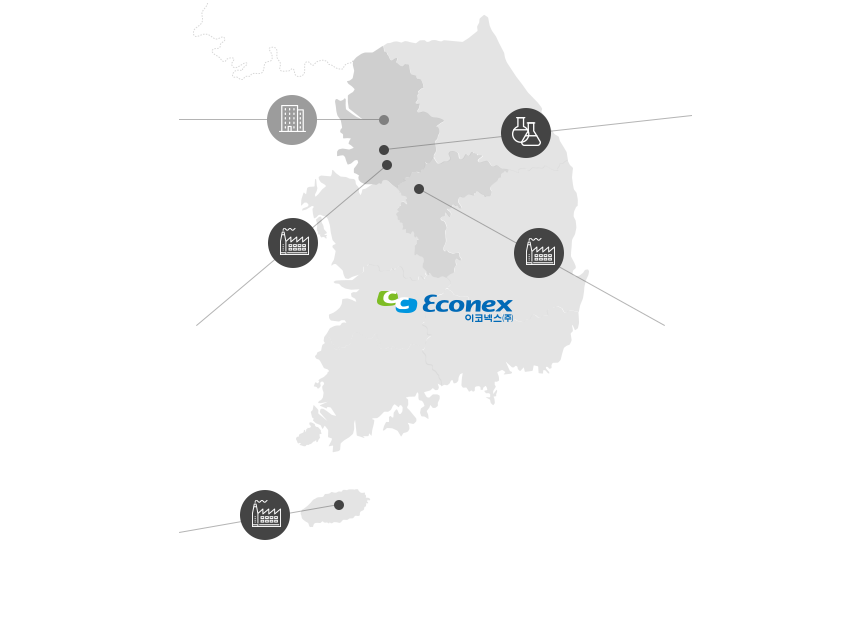 Seoul Office
Headquarters/Pyeongtaek Plant
Jeju Plant
Central Research Center
Jincheon Plant
We, ECONEX Co., Ltd., always try our best to supply high quality products in time through our organized supply network. Renowned for technologically advanced products and excellence in technical service at job sites, we have exported our products to over 60 countries in China, Indian subcontinent, the Middle East, Europe, Russia, American Countries, South Asia, Iran, etc. To form and secure strong partnerships with our customers, we provide technical support at job sites and differentiated system of tailor-made synthesis. As a manufacturer of both superplasticizers and concrete admixtures, ECONEX Co., Ltd. provides technical support regarding concrete admixtures in order to assist formulators fulfill updated concrete technology standards. Above all, we truly welcome opportunities to build cooperative and active relationships with our customers to develop new concrete admixtures for various applications.